About 2 Keto Dudes
2KetoDudes is a podcast about ketogenic dietary interventions. Richard switched to a ketogenic diet in April of 2014 to treat his type 2 diabetes, and dropped his HbA1c from 11.2% to 5.2% where it has been since November 2014. Carl began a ketogenic diet in February of 2016, lowering his HbA1c from 7.4% to 5.2%.
In 2018 Richard decided to go back to school in his 50s to get a BSc (hons) in Biochemistry, and to focus on his studies he took a break from the podcast. Carl invited Carrie Brown to join the podcast.
In 2020 Carl and Carrie decided that the podcast had said most of what needed to be said about ketogenic diets, so the podcast went on a long hiatus. Richard graduated with his undergraduate degree and went back to school to complete honours. And of course there was a pandemic, which set a lot of people back. During the pandemic Carl got COVID-19 and lost control of his keto lifestyle gaining back nearly half of the weight he has lost, Richard missed out on not one but 2 graduation ceremonies, Carrie struggled too, and if our mail is indicative, a lot of our audience did as well.
In 2021, the 3 of us decided there might be something more to be said after all.
Carl Franklin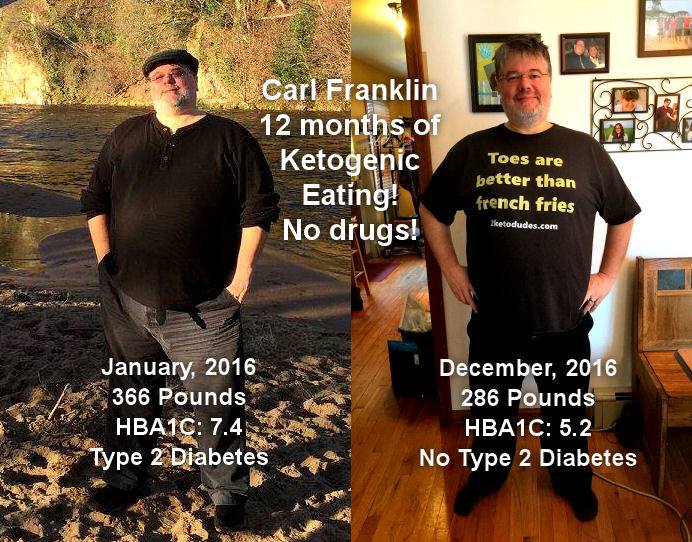 Carl is a commercial software developer, professional musician, and a podcaster since 2002 - before even the term "podcast" was coined.
Carl is a big man. At his zenith he weighed nearly 390 lbs. Along that way he tried a lot of diets based on the FDA food pyramid; grains, fruits, starchy vegetables, leaner meats. All failed to provide much more than transient effects on his increasing body weight and under the surface his increasing metabolic dysfunction.
Being able to put on so much fat, it turns out, meant that type 2 Diabetes developed very slowly in Carl, and his blood sugar remained just below a diagnostic threshold for several decades while the weight just piled on. In June 2015, at 48, Carl's blood glucose finally rose above the threshold and he was diagnosed as a frank type 2 diabetic.
Then he saw some social media posts from a friend Richard about how he reversed his type 2 diabetes eating the opposite of the FDA pyramid ...
Richard Morris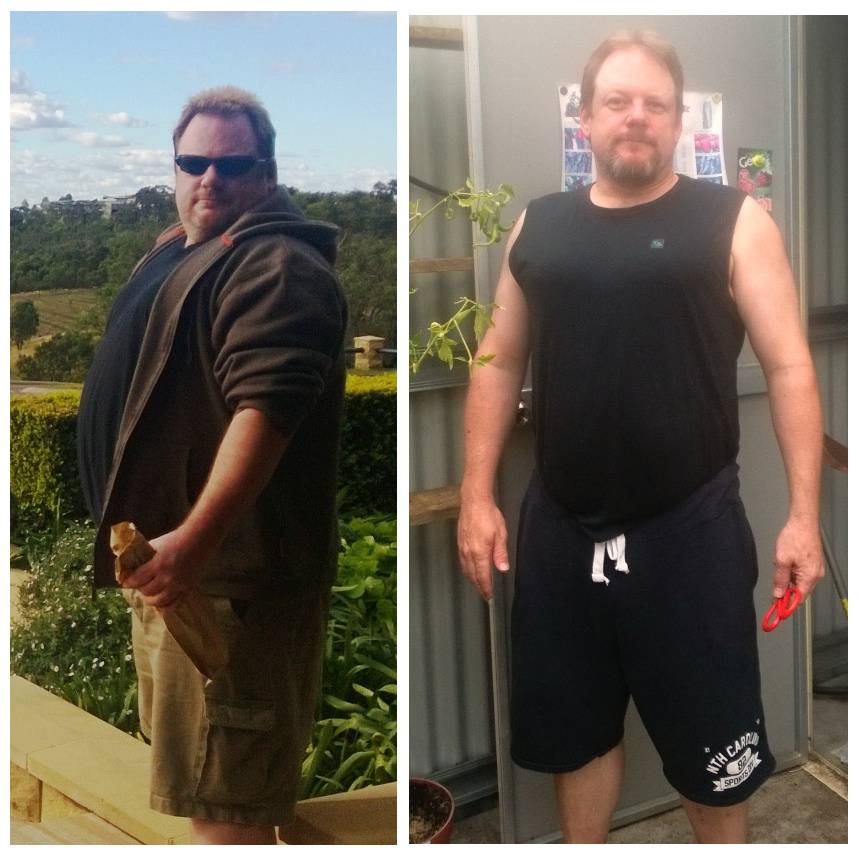 Richard is also a commercial software developer. He's not quite as big, his zenith was 330 lbs but type 2 diabetes came on like gangbusters for him. First diagnosed with pre-diabetes at 38 in 2003, by 2014 at 49 he was a frank type 2 diabetic. His HbA1c was 11.2% and he was about to lose an infected toe. That was a problem that he would have to science the shit out of. He started with presentations by Professor Tim Noakes who suggested there was a dietary intervention that could treat diabetes, from there to the work of Dr Stephen Phinney and Dr Jeff Volek who showed how to a ketogenic dietary intervention can treat type 2 diabetes, and the work of professor Roy Taylor who showed that type 2 diabetes can not only be treated, but actually reversed.
Richard went on a ketogenic diet in April of 2014 and by November his HbA1c was down to 5.2% - no longer diabetic and has remained there ever since.
In January 2015 Carl asked Richard to help him formulate a ketogenic diet to treat his own diabetes, and by July he was also non-diabetic. Carl decided to podcast the shit out of the process, his questions, and eventually Richard couldn't answer all Carl's questions so they interviewed actual experts on their podcast.
In 2018 Richard decided to go back to school in his 50s to get a BSc (hons) in Biochemistry, and to focus on his studies he took a break from the podcast. Carl invited Carrie to join the podcast.
Carrie Brown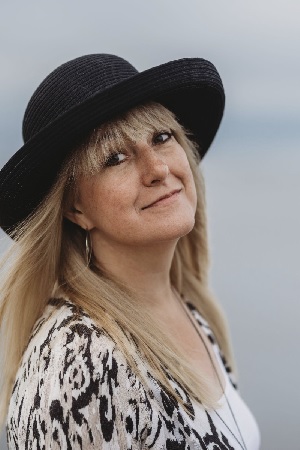 Carrie is a professional pastry chef who discovered that a ketogenic diet was necessary to treat her symptoms of Bipolar 2 and depression. Pastry is not traditionally ketogenic, so that was a problem she would have to chef the shit out of.
Carrie has used her training to develop hundreds of ketogenic versions of high-carb recipes to help people who like to cook (and even those who don't) to make food at home that is not only delicious but also ketogenic.
She has authored multiple cookbooks and blogs about her journey at
carriebrown.com
. Carrie joined 2KetoDudes in January 2019 to bring low carb ketogenic recipes to the 2KetoDudes audience.
Carrie lives with a couple of large cameras, a pile of cats - Zebedee, Daisy, Mr. McHenry, Priscilla, Ermintrude, Jemima, and Mr. Buttersworth - and a ridiculous amount of cocoa powder.